Environmental, Social and Governance (ESG)
The Board of Hextar Global Berhad (HGB) believes that introducing Environmental, Social and Governance (ESG) considerations in its business decisions is essential  to achieve long term business success besides creating value for all its stakeholders, act as a strategic approach to support and empower communities, encourage social inclusivity and improve the environment. In terms of climate change, Hextar is committed to reinforcing the efforts towards decarbonization pathway while ensuring long-term value creation for the organization.
The balancing of ESG with the interests of stakeholders is essential in improving investor perception and public trust that works towards value enhancement for stakeholders in the long run. Climate change, directly and indirectly, affects our profitability and sustainable growth. It is crucial to protect these by mitigating and adapting to climate related risks.
HGB also believes that as a responsible corporate citizen, one would have an obligation in making the earth a better place to live in through responsible investing, besides weighing on an appropriate risk-return profile for its investments. Accordingly, HGB incorporated its principles of sustainability in its ESG policy and in line with our core values of Integrity, Loyalty and Hard Work.
FTSE4Good Bursa Malaysia Index and FTSE4Good Bursa Malaysia Shariah Index.
Our efforts to be a responsible and sustainable organization have enabled us to be included as a constituent in the FTSE4Good Bursa Malaysia Index and FTSE4Good Bursa Malaysia Shariah Index since June 2023. FTSE Russell (the trading name of FTSE International Limited and Frank Russell Company) confirms that Hextar Global Berhad has been independently assessed according to the FTSE4Good criteria, and has satisfied the requirements to become a constituent of the FTSE4Good Index Series. Created by the global index provider FTSE Russell, the FTSE4Good Index Series is designed to measure the performance of companies demonstrating strong Environmental, Social and Governance (ESG) practices. The FTSE4Good indices are used by a wide variety of market participants to create and assess responsible investment funds and other products.
What our Managing Director Say
"Hextar Group is committed to meeting the target of Net Zero Carbon Emissions by 2050, aligned to Malaysia's national aspirations and in support of the Sustainable Development Goals (SDGs) on Climate Action."
"As we look into the future, we hope to achieve the Net Zero target through investing in low-carbon efficient technologies and renewable energy. We hope to continuously report our progress as an organization towards meeting this goal in the future."

ENVIRONMENTAL SUSTAINABILITY GOALS
GHG Emissions Initiatives
| Category | Category | *Year 2021 | Target 2026 | Actual 2022 |
| --- | --- | --- | --- | --- |
| Class I | Highly Poisonous | 4.3% | 2.5% | 3.4% |
| Class II | Poisonous | 24.7% | 17.5% | 25.1% |
| Class III | Harmful | 50.1% | 55.0% | 50.3% |
| Class IV | Least Toxic | 20.9% | 25.0% | 21.2% |
*Year 2021 based data has been revised in accordance to gazette date of our product registration.
In FY2022, the Group continued to collect the GHG data, including all newly acquired companies in FY2021.
Append below is the Group total GHG emission in Metric Tones of CO2 equivalent.
INDICATOR

UNIT OF MEASUREMENT

2021 (MT)

2022 (MT)

GHG Emissions

Scope 1
Tonnes CO2e

262

388

Scope 2
Tonnes CO2e

1,098

1,939

Scope 3
Employee commuting
Tonnes CO2e

415

486

Business Travel (Land)
Tonnes CO2e

n/a

117

Business Travel (Air)
Tonnes CO2e

n/a

40

TOTAL Scope 1+2
Tonnes CO2e

1,360

2,327

TOTAL Scope 3
Tonnes CO2e

415

643

TOTAL Scope 1+2+3
Tonnes CO2e

1,775

2,970
Data for emissions generated was obtained by using the relevant emission factors from the Malaysian Green Technology and Department for Environment, Food and Rural Affairs (Defra) UK GHG Conversion Factors. This is considered the current best practice for corporate or organisational emissions reporting.
Scope 1: Direct CO2 e emitted from sources that are owned by the group, such as company-owned vehicles and machineries
Scope 2: Total CO2 e emitted refers to indirect emissions from purchased electricity using the location-based and market-based methods
Scope 3: Total CO2 e emitted refers to indirect emissions. We are reporting employee commuting only from data obtained from petrol card users and obtained data only.
We are conscious of the rapidly rising climate change, including both Physical and Transition risks. In response, we proactively identify, and manage risks that materially impact our value creation abilities, including sustainability which is regularly deliberated by the Board and driven by the ESG Committee.
| RISK | OPPORTUNITIES |
| --- | --- |
| Preparation for future climate related regulation that may cause issues of non-compliance. | Stakeholder trust and perception can be improved through effective emissions management. |
| Reallocation of capital to green investments by financial institutions impacts business funding. | Lower resource consumption contributes to cost savings and better performance. |
| Poor climate change adaptation exposes our agrochemical business activities to severe damage and high financial lose. | Secure positioning and diversify in low carbon solutions market in order to meet increasing demand. |
Additionally, we strive to meet the standards of global sustainability indices to improve our governance and disclosures on sustainability related risks in meeting our stakeholder expectations.
Environmental policies are put in place in our operations to govern our environmental management. The criteria for our environmental management are laid forth in ISO 14001 and 45001 Environmental, Health and Safety Management System Standards. In addition to our internal policies, we are committed to adhere to all applicable environmental laws and regulations, which include: -
Laws and Regulations
Our Commitments
Wastewater Discharge

Environmental Quality (Industrial Effluent) Regulations, 2009

Monthly water effluent lab test by third party
Compliance to Industrial Effluent Registration (Tenth Schedule)
Conduct of Chemical Oxygen Demand test via weekly waste water analysis

Scrubber System

Environment Quality (Clean Air) Regulations 2014

Appointment of a competent person for scrubber system
Conduct of Air Emission Monitoring
Conduct of Local Exhaust Ventilation ("LEV") Assessment

Waste Disposal

Environmental Quality Act 1974
Environmental Quality (Scheduled Wastes) Regulations, 2005

Disposal of general waste to regulated landfills
Disposal of scheduled waste to approved disposal facility
Erection of scheduled waste storage cage bund
Adoption of e-consignment note for scheduled waste

Noise Exposure

Environmental Quality Act, 1974
Occupational Safety and Health (Noise Exposure) Regulations 2019

Conduct of Boundary Note Measurement
Conduct of Noise Risk Assessment
Conduct of Baseline and Annual Audiometric Testing

Chemical Management

Occupational Safety and Health (Use and Standards of Exposure of Chemicals Hazardous to Health) Regulations 2000
Occupational Safety and Health (Classification, Labelling and Safety Data Sheet of Hazardous Chemicals) Regulations 2003

Registration of chemical raw material and finished goods
Proper labelling on all products
Preparation of Personal Protective Equipment ("PPE") for workers in production
Conduct Chemical Health Risk Assessment and training on Hazard Logo Identification as well as PPE Usage for all production staff
Usage on enclosed mixing system with vacuum system and scrubber system
Installation of LEV system

Poison Management

Environmental Quality Act, 1974
Poison Act Regulation, 1952
Department of Environment Guided Self-Regulation ("GSR")

Adoption of poison signed order form and poison wholesale sales book
Registration of poison license
Implementation of ISO 14002:2015 Policy
Maintenance of effluent treatment plant and scrubber system
Formulation of Environmental Performance Monitoring Committee and Environmental Regulatory Compliance Monitoring Committee
Identification of competent person on: -

Certified Environmental Professional in Scheduled Waste Management (CePSWaM)
Certified Environmental Professional in the Operation of Industrial Effluent Treatment. Systems (Biological Processes) (CePIETSO-BP)
Certified Environmental Professional in the Operation of Industrial Effluent Treatment Systems - Physical Chemical Processes (CePIETSO-PCP)
Certified Environmental Professional in Scrubber Operation (CePSO)

Transparency of information on eco-labelling products

SOCIAL SUSTAINABILITY GOALS
LABOUR PRACTICES AND STANDARDS
WORK-RELATED INJURIES (EMPLOYEES)
| Description / Years | 2020 | 2021 | 2022 |
| --- | --- | --- | --- |
| Hours Worked | 1,026,496 | 967,676 | 1,208,015 |
| Work Related Injuries | 1 | 0 | 2 |
| Incident Rate | 0.19 | 0.00 | 0.33 |
| Work Related Fatalities | 0 | 0 | 0 |
WORK-RELATED INJURIES (CONTRACTORS)
| Description / Years | 2020 | 2021 | 2022 |
| --- | --- | --- | --- |
| Work Related Injuries | 0 | 0 | 0 |
| Work Related Fatalities | 0 | 0 | 0 |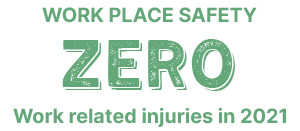 Under our stringent control on occupational safety and health affairs in Hextar Group, We are pleased to inform that we have successfully achieved our goal of having zero incidences of fatalities for Hextar employees and contractors in FY2022. However we had two minor work-related injury in FY2022.
One worker suffered a minor burn caused by hot water. During maintenance works, he and his team were required to discharge clogged material inside a tank. However, without any instruction from his superior, he decided to open a valve at the outlet pipe of the tank, causing hot air to be released. First aid treatment was immediately given to the victim and he has since fully recovered.
Corrective action was immediately taken by giving instructions to workers before maintenance work and ensuring all workers uses appropriate PPE.
Our SHE Committee comprises of employee representatives as we believe in the importance of active participation from relevant stakeholders to monitor and improve the safety and well-being of the organization.
We prioritize the safety and health of our employees in our production and operation management in order to fulfill our corporate social responsibility and contribute to the progress of the economy, the environment, and society.
The Board has approved the appointment of a Board Member, Madam Lee Chooi Keng to oversight the management of health and safety risks and the management of climate change risks. We believe that by including a representative from the Board member with relevant knowledge and experience, it will improve the effectiveness of the Safety, Health & Environment and ESG governance.
Hextar Global Berhad sustainability governance is led by the ESG Committee comprising Senior management team, representative from the Board Member and Senior Executives. We believe the committee is critical for driving the development and implementation of the Company's ESG strategy.
EQUAL TREATMENT IN WORKFORCE

Labour Rights Policy
To protect employee's human rights from the areas of forced labour, child labour and discrimination, with the inclusion of clear line of responsibilities for the Board, managers, supervisors and all employees. Hextar is committed to ensuring that priority is given to those from our local communities, geographic locations that are close to our operations/premises especially those from the under privileged community regardless of gender, race, age, marital status, disability, sexual orientation, educational background, social status or political affiliation.

Non-Discrimination Policy
To ensure that all employees are treated equally. Investigation will be conducted for any discrimination reported and disciplinary and corrective action will be taken, where appropriate.

Workplace Harassment Policy
To provide a safe, healthy and harassment-free working environment. Hextar has zero-tolerance to any form of harassment. Disciplinary measure will be taken for any breach of this policy.

Dispute Resolution Policy
To support prompt and fair resolution of all disputes of any nature. Employees should discuss any problems or concerns promptly with their immediate supervisor, or Head of Human Resource, if necessary, to resolve such issue.

GOVERNANCE SUSTAINABILITY GOALS
ETHICAL AND TRANSPARENT BUSINESS CULTURE AND PRACTICES
In fostering our business towards SDG 16, our people and operations are guided by the following policies implemented across the Group:-

Corporate Code of Conduct & Ethics ("Code")
Employees are required: -

To act honestly and legally at all times;
To avoid any conducts that could risk or damage the Group's reputation;
To ensure confidentiality of the Group's information; and
To avoid personal interest being ahead of the Group's interest.

All applicable laws, rules and regulations must be adhered to accordingly.
Any conflict of interest must be avoided/ disclosed promptly.
Disclosure of confidential information to unauthorised personnel and insider trading are strictly prohibited.
All employees must not engage in any fraudulent or dishonest activity.
Discrimination and harassment in workplace are prohibited.

Anti-Bribery and Corruption Policy ("ABCP")
As per the Malaysian Anti-Corruption Commission Act 2009 and the Guidelines on Adequate Procedures issued by the Prime Minister's Department, the ABC Policy was introduced as part of the Group's commitment to good corporate governance and to eradicate any form of bribery and corruption.
The Group has zero-tolerance against all forms of bribery and corruption.
The Group is committed to acting professionally, fairly and with integrity in all business relationships and dealings.
Head of Compliance Unit in the Group, Abdul Wahid Bin Abu Bakar has been recognized and commissioned as Certified Integrity Officer (CeIO) by Malaysian Anti-Corruption Academy.
Due diligence shall be conducted before entering into any formalised relationship.
"No Gift" policy is implemented.
Facilitation payments are strictly disallowed.

Whistle Blowing Policy
To make report for any suspected and/or known fraud or unethical/improper conducts.
For every disclosure made in good faith, all concerns or complaints raised will be treated fairly and with confidentiality in order to protect the whistleblower.
The whistleblowing policy has been made aware to all employees under Hextar through mandatory orientation programme which were attended by all employees.
Investigation will be conducted and appropriate disciplinary actions will be undertaken, if applicable. For year under review, we recorded zero whistleblowing case.

Supply Chain Policy
The policy acts as a best practice approach to sustainable procurement and sets out the guiding principles in our supplier selection process, which prioritizes suppliers who adopt sustainability practices in their organizations and business dealings especially in the area of :-

Energy use
Climate change
Water use
Biodiversity impacts
Pollution
Waste reduction
Resource use

Hextar's suppliers are expected to comply with all applicable laws, codes or regulations of the countries, states and localities in which they operate.
Suppliers must also ensure that their own vendors, including temporary labour agencies, are in compliance with such laws and regulations. They must also align their practices with any published standards for their industry.
Hextar Global Berhad is committed to
The United Nations Sustainable Development Goals (UN-SDG) and Malaysia's Shared Prosperity Vision 2030 (SPV2030) towards decarbonization pathway while ensuring long-term value creation for the organization. As part of our commitment to sustainable and responsible business practices, Hextar Global Berhad has embedded the Ten Principles of the United Nations Global Compact into strategies and operations, and committed to respecting human and labour rights, safeguarding the environment, and working against corruption in all its forms.
End poverty in all its forms everywhere.
End hunger, achieve food security and improved nutrition and promote sustainable agriculture.
Ensure healthy lives and promote well-being for all at all ages.
Ensure inclusive and equitable quality education and promote lifelong learning opportunities for all.
Achieve gender equality and empower all women and girls.
Ensure availability and sustainable management of water and sanitation for all.
Ensure access to affordable, reliable, sustainable and modern energy for all.
Promote sustained, inclusive and sustainable economic growth, full and productive employment and decent work for all.
Build resilient infrastructure, promote inclusive and sustainable industrialization and foster innovation.
Reduce inequality within and among countries.
Make cities and human settlements inclusive, safe, resilient and sustainable.
Ensure sustainable consumption and production patterns.
Take urgent action to combat climate change and its impacts.*
Conserve and sustainably use the oceans, seas and marine resources for sustainable development.
Protect, restore and promote sustainable use of terrestrial ecosystems, sustainably manage forests, combat dessertification, and halt and reverse land degradation and halt biodiversity loss.
Promote peaceful and inclusive societies for sustainable development, proivde access to justice for all and build effective, accountable and inclusive institutions at all levels.
Strengthen the means of implementation and revitalize the Global Partnership for Sustainable Development.