Klang, December 24, 2020 – Hextar Group of Companies ("Hextar") on 24 December 2020  presented a mock cheque of RM2.5 million to Good Samaritan Home (GSH) for their new building fund on Christmas Eve accompanied by gift giving, and a hearty Christmas lunch together.
The purpose of the new building is to cater for additional children as there is a growing requirement for these needy children within the community and the current orphanage building has limited space and could not accommodate more children. The proposed new building consists of four zones in a single modern building and comes with facilities such as boys and girls dormitories, study rooms, libraries, utilities rooms, administrative office and a large play area. The anticipated completion date is March 2022.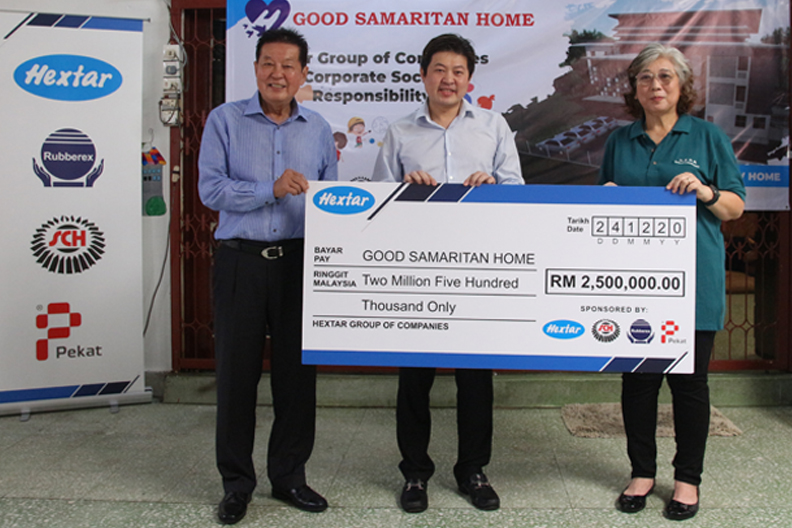 The new building which will be located at Aman Perdana, Klang will costs RM3.5 million to build and GSH has managed to raise RM1 million from generous donors since 2019. Hextar is delighted to sponsor the remaining balance amount required as part of Hextar's Corporate Social Responsibilities (CSR) initiative. "At Hextar, we strive to be a responsible organization and we always look for opportunities to give back to the community, especially during these difficult times. GSH's noble mission is aligned with one of our CSR's pillars that is to help the underprivileged children. As an organization, we have the responsibility to provide these children better chances in making it in lives. Hextar is delighted to be able to assist GSH." said Dato' Ong Choo Meng, the Chief Executive Officer of Hextar Group.
GSH was founded by Rev. Albert Ong and his wife, YM Ong in January 1999 to help, nurture and develop orphaned and vulnerable children to become self-sustaining and constructive members of the society. As of to date, GSH is home to 33 children, whose age ranges from 2 to 18 years old.
For more information, please visit their Facebook page at facebook.com/goodsamaritanhome.page/