Kuala Lumpur, 24 November 2021 – Hextar Global Berhad, Rubberex Corporation (M) Berhad and Pekat Group Berhad have teamed up to promote the use of solar photovoltaic (PV) system as renewable energy source and reducing carbon emission. 
The collaboration will see Hextar, Rubberex and Pekat combine their resources to donate a comprehensive solar power system for Tung Shin Hospital.
This is a significant move for the companies under a joint Environmental, Social and Governance (ESG) initiative project to help the hospital reduce its electricity bill and carbon footprint as it serves the community.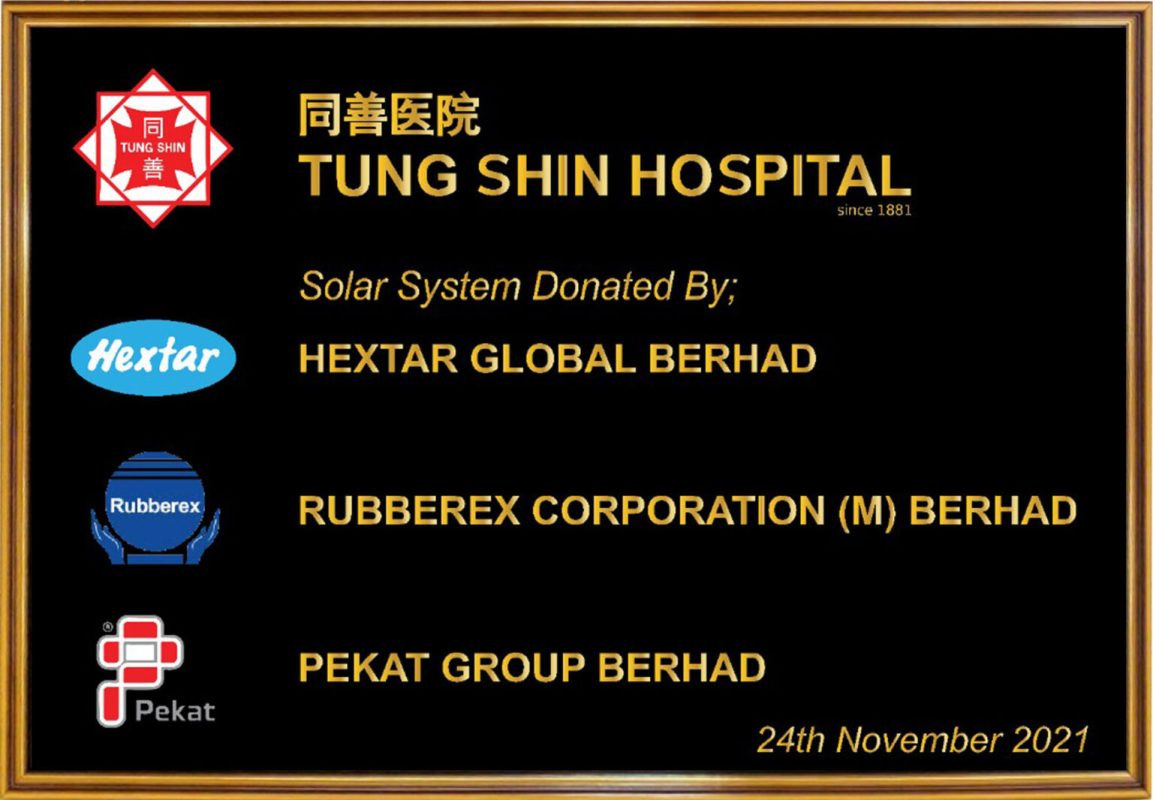 Tung Shin Hospital, which was founded by Kapitan Yap Kwan Seng in 1881, provides western and traditional Chinese medical offerings to the public at affordable rates.

Under the ESG initiative project, Hextar, Rubberex and Pekat will donate, design, supply and install the 154.44 kilo-watt peak (kWp) self-consumption (SELCO) grid connected PV system for Tung Shin Hospital.
Dato' Eddie Ong Choo Meng, CEO of Hextar described the joint ESG initiative project as "close to his heart" as the company, with its expertise in agro chemicals and sustainable energy solutions, can play an important role in helping Tung Shin Hospital.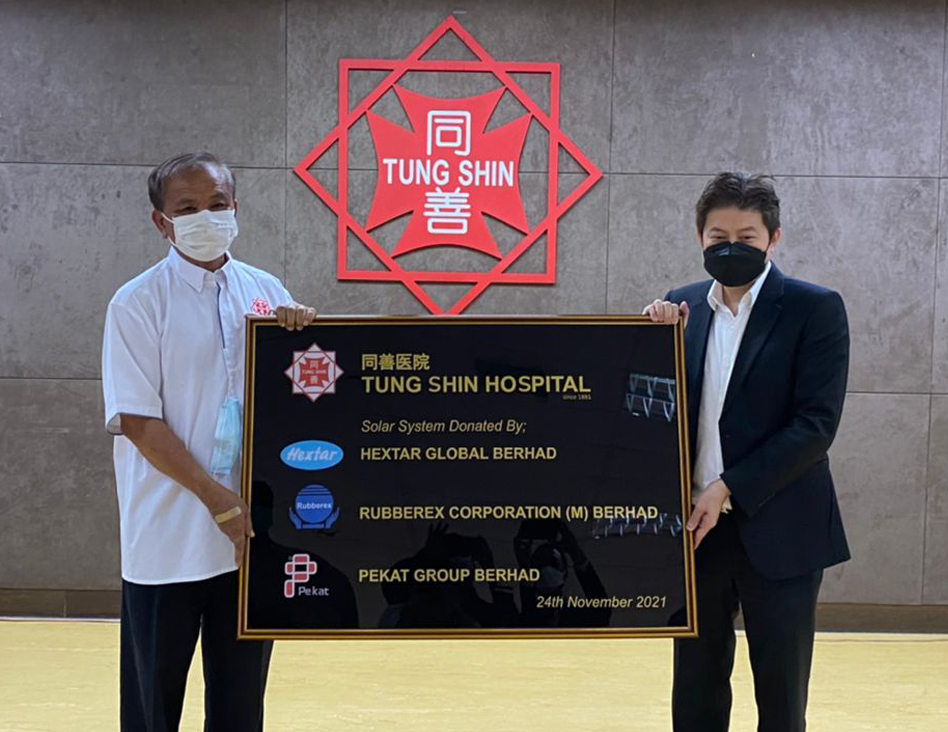 "Tung Shin Hospital being a non-profit private hospital has served the needs of the community over the years. We believe our involvement in the project will indeed go a long way for the hospital to be able to reduce its electricity costs and use the funds to help the community," Dato' Ong said.
Mr Chin Soo Mau, Managing Director of Pekat said the ESG initiative involving the RM445,000 solar PV system will enable the hospital to reduce its electricity bill with estimated savings of RM2.5 million over 25 years.
"Pekat as the solar PV specialist is indeed glad to be able to play an instrumental role in this project with Hextar and Rubberex to implement the solar power system for Tung Shin Hospital. We know the project will go a long way and assist the hospital reduce its electricity consumption and use the much needed funds saved to help the community," Mr Chin added.
Due to the limited roof space of the hospital, only a 154.44 kWp solar PV system could be installed, and it is expected to generate up to 199,000kWh units of electricity annually while reducing carbon dioxide emission by 138.16 metric tons per year.

The engineering, procurement, construction and commissioning of solar PV systems for the commercial, industrial, and residential segments is set to grow, given the increasing adoption of solar energy in Malaysia.

This is in line with the country's 31% renewable energy target in its generation mix by 2025.

Malaysia has in place various government initiatives and programmes such as Net Energy Metering (NEM), Large Scale Solar (LSS), Sarawak Alternative Rural Electrification Scheme (SARES), and Green Investment Tax Allowance (GITA)/Green Investment Tax Exemption (GITE) to encourage the installation of solar panels.

The Malaysian government is targeting to expand RE production and for RE to comprise 20% of total electricity generation capacity by 2025 (from 9% in 2020).